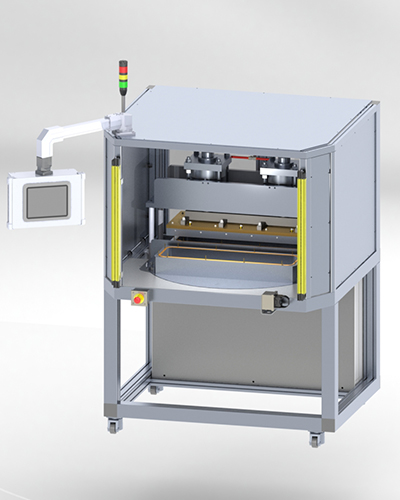 Application
Tray sealing for high SKU, low or mid-range volume applications. Ideal for large instruments and medical kits packaged in 8 to 55 mil trays.
Packaging Materials
Material inputs are pre-formed trays and pre-printed, die cut lids. Typical packaging system is PETG or HIPS trays with heat sealable Tyvek ® or Medical Paper.
Sealing Capacity
8000 lbf seal press for tray sizes up to 32" long x 10" wide x 3" deep. Speeds from 2 to 8 trays per minute.
Simple tool change. No water, wiring or reheating required
Class 7 cleanroom compatible
Vision inspection of device, Tyvek ® graphics and variable data
Allen-Bradley CompactLogix Processor with
10" PanelView Plus color touchscreen
Recipe scan to load with auto tool verification
Fully validatable, GMP Compliant
Open software architecture
Process parameter verification
Personalized User Administration
Password Management
Data change tracking
Recipe History
Data Backup
Power: 220VAC, 45A, 3PH, 60 Hz
Compressed Air: 25 CFM @ 100 PSI
Footprint: 56" W x 54" D x 72" H
Technical Support
Installation and Setup
Maintenance