SelectSeal Max200
Horizontal Form-Fill-Seal • Rollstock Thermofomer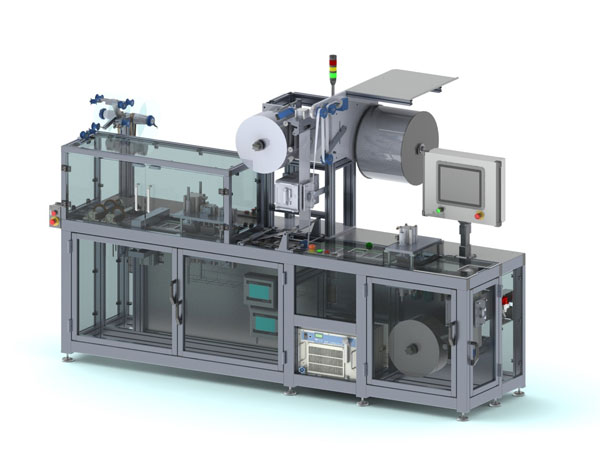 Application
For High volume, low SKU sterile barrier packaging applications where space savings is critical. Ideal for clean room device manufacturing and for flexible or rigid rollstock web widths up to 200mm.
Packaging Materials
Rollstock forming and non-forming
Forming Films: PET, PETG, HIPS, PVC, Poly, Nylon/Surlyn ®
Non-Forming Films: Heat sealable Tyvek ® , Medical Paper, Poly Films or Paper board.
Modular, adaptable design allows varied packaging sizes and features
Simple tool change. No water, wiring or reheating required.
Class 7 cleanroom compatible
Open software architecture, native software files included
Allen-Bradley CompactLogix Processor with 12" PanelView Plus color touchscreen
Recipe scan to load with auto tool verification
Fully validatable, GMP Compliant
Technical Support
Installation and Setup
Maintenance
Training
Machine Specifications
Typical Configuration
Other Configurations
Max Web Format
(web width x index)
8" x 8" (203mm x 203mm)
Larger format readily
available
Max Draw Depth
3.0" (76mm)
Max Film Thickness
30 mil
Rollstock
14" (356mm) max dia roll, 3" (76mm) core
Larger diameter roll
unwind options available
Rate
3 – 20 Cycles per minute (CPM)
Materials of
Construction
Anodized Aluminum Extruded framework, SS,
other cleanroom compatible materials
Power
240VAC or 480VAC, 3phase, 60hz
Other voltages available
Air Consumption
80-100PSI air source, CFM to be provided
based on actual application
Film Unwinds
Powered, constant tension with low roll, web
break and splice detect as standard
Dual roll unwind or cart
Preheat Station
Contact heat on both sides of film
Forming Station
Vacuum form with air assist; Male vent seam
plug with vacuum; Male plug assist
High force cold forming
(foil)
Load Station
Modular length per application for manual
or auto load
Operator load indicators
Top web print
Brake stretch eyemark registration for
pre-printed top film
All print technologies
can be provided
Seal Station
3700# capacity servo based sealing station with
direct force load cell feedback for verification.
Pneumatic driven sealing
available
Cutting
Cross cut knife (XMD) with Crush Cut (MD)
Matched metal, steel rule
or forged type
Controls
Allen-Bradley PLC and HMI with Yaskawa motion
Other platforms available
upon request
Safety
Zero tolerance safety package
Vision
Cognex or Keyence cameras for inspection
of device presence or graphical print verification.
Software Features
Process parameter verification, 4 User security
logins, Data change tracking, Line Clearance
Customizable per
requirements